Learning Resources New Sprouts Super Sandwich Set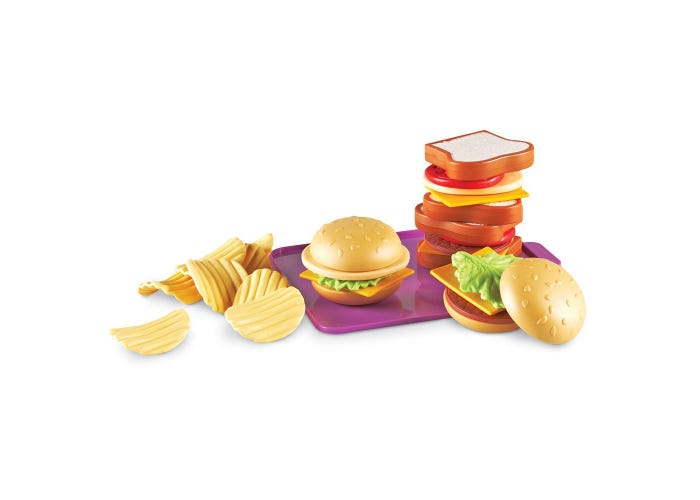 Lunch is served with our new Super Sandwich Set! Observe your hungry toddler create the most interesting sandwich creations when they start stacking pieces from our latest New Sprouts(R) collection. Watch how quickly hand-eye coordination develops as they practice stacking skills and see how high the culinary creations get with a full assortment of tasty meats, cheese, and garnishes-and don't forget the chips!
All of the play food items are made of soft, durable, rubberized plastic with a real-life look and feel. Wipe them clean with a soft damp cloth as needed and you're ready for the next lunch crowd.
Educational Benefits
Skills:
Imaginative play, Role play, Fine motor, Hand-eye coordination, Early vocabulary/language and social skills
This deluxe 29-piece set includes
4 slices of bread, 2 buns (4 pieces), 2 turkey slices, 4 slices of cheese, 2 salami slices, 2 lettuce leaves, 2 tomato slices, 8 potato chips, and a serving tray.
From turkey & cheese to salami with potato chips, see what exciting combinations turn up in your sandwich! Super Sandwich Set coordinates with all of our other New Sprouts play food collections, especially Serve it! (
LER 3294
) and Garden Fresh Salad Set (
LER 9745-D
).
**Age Under 2
**Grade Toddler+
You may also like