Honestly pHresh Active Sea Mineral Deodorant Stick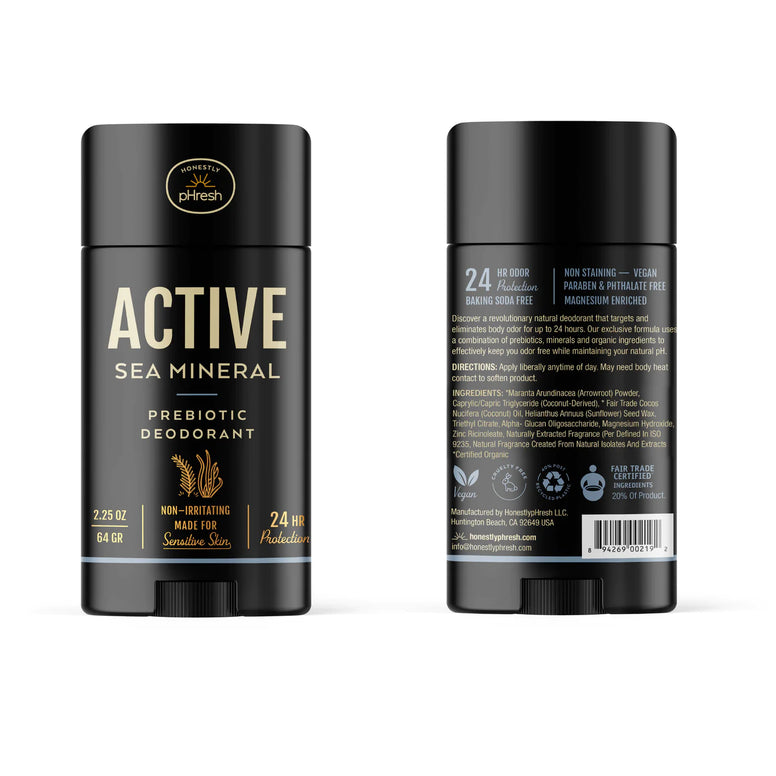 Honestly pHresh's NEW Formula Is pHenomenal!
Our sticks are pH balanced:) What does this mean you ask? Most natural deodorant sticks are formulated with baking soda which strips the natural pH of your skin causing rash, redness and irritation in over half of the population- ouch! Our sticks are thoughtfully formulated with an innovation in natural technology using a balance of prebiotics, minerals and essential oils that work continuously in harmony to effectively keep you pHresh throughout the day without irritation. Our formula promotes the growth of healthy bacteria on your skin's surface while attacking any gram negative or positive bacteria that causes body odor! We think this is super cool! Did you know our sticks are also 45% Fair Trade Certified? 
Our brand new formula boasts a  combination of minerals, prebiotics that work in harmony to deliver 24 hours of odor protection . All that without aluminum, parabens, phthalates, glycol, gluten, GMOs, or baking soda?! You better believe it!
---
Baking Soda Free. Vegan. Cruelty-free. Aluminum-free. Paraben-free. Phthalate-free. Petroleum-free. Glycol-free. Gluten-free. Non-GMO. No artificial colors. No synthetic fragrances. Made in the USA.
---
45% Fair Trade Certified  70% Organic
Fragrance: Fresh and lively bergamot meet with fir needle and hints of spirulina.
The technology behind our formula: Our exclusive blend of prebiotics and positively charged compounds along with our essential oil blends work in harmony to actively promote healthy bacteria on the skins surface while seeking out and eliminating gram positive or gram negative bacteria such as body odor. This process lasts all day!  Our new formula contains zero harsh or pH striping ingredients and is safe for all skin types.Glides on clear and will not stain your clothes.
You may also like