Fat Brain Toy Co Simpl Dimpl - Clear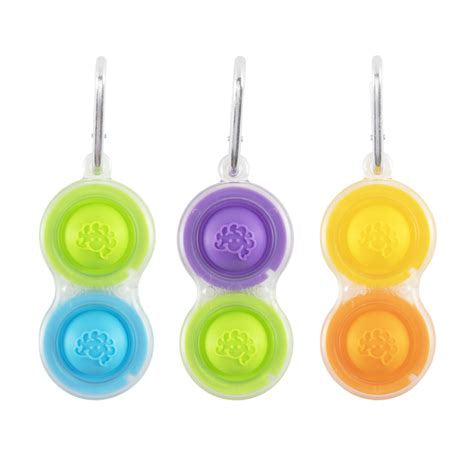 The wonder of Simpl Dimpl has never been more clear!

Simpl Dimpls designed with totally transparent frames.

The frames are made of strong, high-quality plastic - ideal for rattling around in your pocket, purse, or backpack - and the colorful buttons are made of 100% silicone.

One glance thrills the eyes. One touch and the fingers can't stop pushing, poking, and popping!

Take your Simpl Dimpl experience to the next level with the Simpl Dimpl Transparent 3-Pack.

Simpl Dimpl Clear
Simpl Dimpls featuring totally transparent frames
Encourages tactile stimulation, calmness, concentration
Fidgety fingers can't put em' down!
Buttons each textured on one side with the Fat Brain Toys logo
Mini carabiner clips make it easy to attach and detach them from keys, purse, backpack
Includes transparent Simpl Dimpls 
Frames made of high-quality ABS plastic
Buttons are made of 100% high-quality food-grade silicone
You may also like