Green Sprouts Silicon Nipple Fast Flow Stage 3+ - 6+ month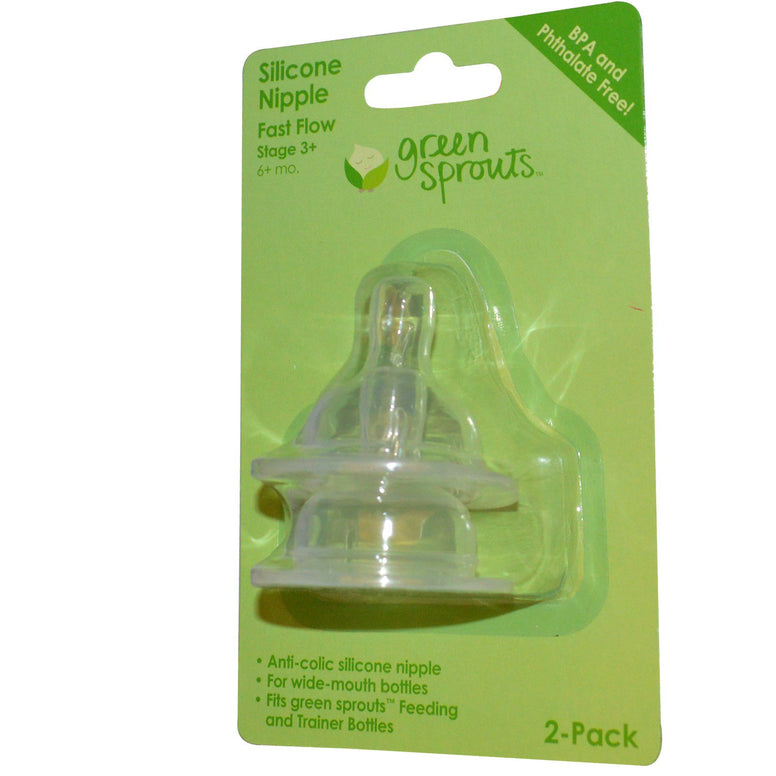 Description
BPA and Phthalate Free!
Anti-Colic Silicone Nipple
For Wide-Mouth Bottle
Fits Green Sprouts Feeding and Trainer Bottles
At green sprouts we know you want to the best for your baby. That's why we make baby-friendly products for your little one. All of our product conform to US health and safety standards.
Silicon Nipples
Non-toxic & nitrosamine free
Heat-resistant
Soft & non-porous
Hypoallergenic & hygienic
Conforms to ASTM F963.
Suggested Use
Care instruction: Sterilize before use by immersing in boiling water 2-5 minutes. After use, wash in hot water with milk soap and rinse thoroughly with clear water. Dishwasher safe, top rack only. Sterilize weekly.
Warnings
All nipples wear out with normal usage. To prevent possible choking hazard, test strength by pulling on bulb portion. Inspect nipples regularly and replace immediately if any signs of cracks, tears, stickiness or excessive wear appear. Do not attempt to enlarge hole with sharp object not made for this purpose, as this will cause tearing. Hole can be enlarged with a green sprouts Nipple Flow Adjuster. Make sure baby is ready before using a faster flow nipple.
Keep packaging out of reach of children.
You may also like