Geomag™ Magicubes Magnetic Blocks, 24 Pieces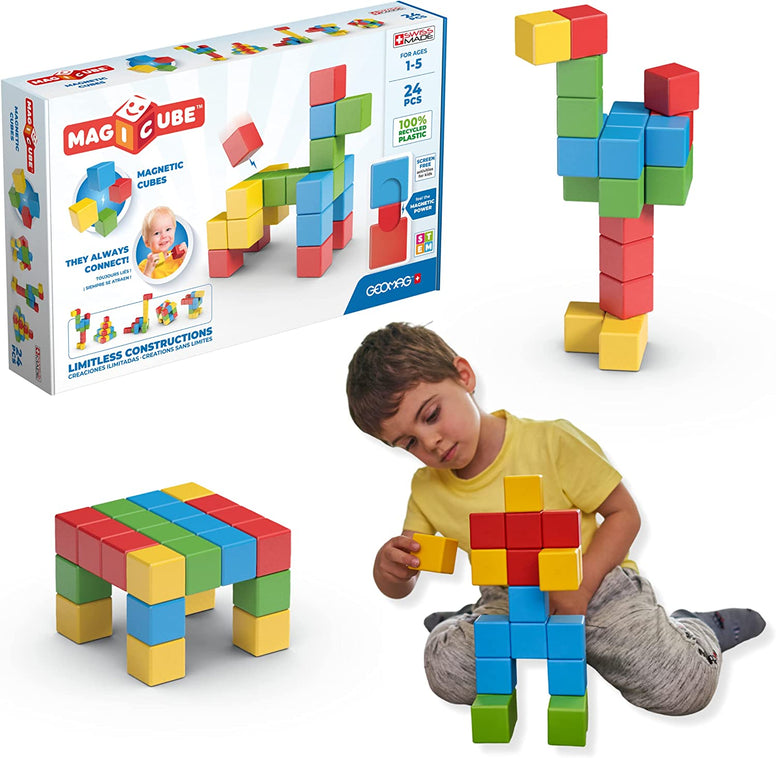 This product is unavailable
STEM LEARNING FUN WITH TODDLER MAGNETS : Geomag world magnetic toys has turned the classic stacking cube into something "magical". These 100% recycled plastic magnet cubes can be attached on any side, making building so easy. Baby building blocks for ages 1 to 5

GEOMAG MAGNET TOYS ALWAYS STICK ! These STEM toys for boys and girls can be attached together from every side, making building fun and easy. The magnet building blocks are the perfect toddler toy for magical, imaginative and creative play time. Magnetic cube as Montessori toys.

100% RECYCLED, 1.57 INCH : Bright red, yellow blue and green plastic block magnets for kids. These magnetic building blocks are great for early building skills and helping little hands to balance traditional building blocks. Discovery toys for hand-eye coordination. Magnetic blocks for toddlers age 1-3.

BEST LEARNING AND DEVELOPMENT MAGNETS TOYS : A great introduction to magnets and STEM concepts, with an easy magnetic stick and build system. These stacking toys for toddlers 1-3 will hold their attention while building coordination and critical thinking skills. Great building blocks for toddlers.

ASSURING SAFE PLAY WITH PUZZLE MAGNET BLOCKS FOR KIDS : Geomag manufacturing complies with the most rigorous European and International safety standards. This set has 24 magnetic cubes with many different building ideas. Mix and match for educational discovery!
You may also like