Dissect-It Discover-It Simulated Synthetic Owl Pellet Lab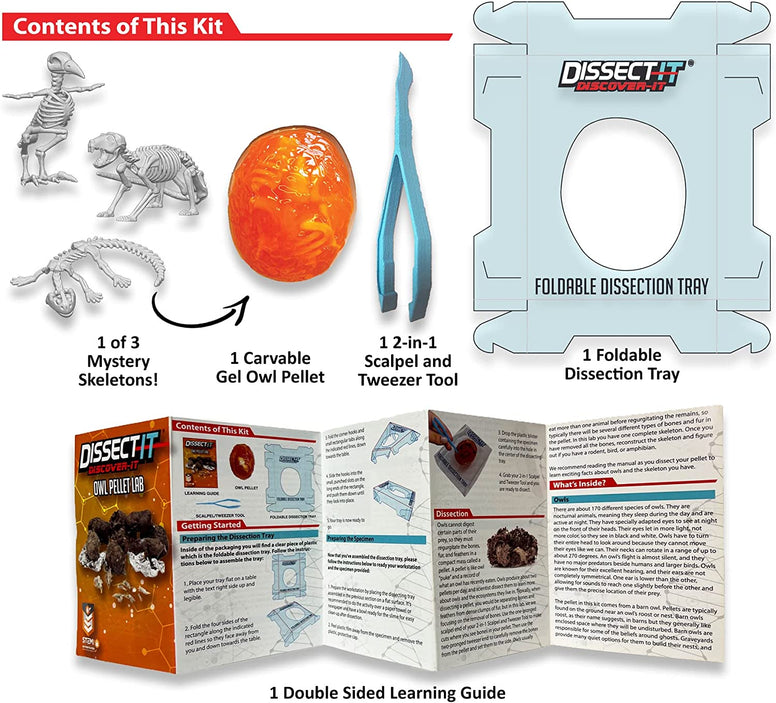 REALISTIC & SAFE EXPERIENCE – Made out of a carvable, gelatin-like slime material that is absolutely safe for children, our Dissect-It Discover-It kits give the realistic experience of dissecting an owl pellet!

UNCOVER THE MYSTERIES THAT LIE WITHIN – Slice your way through the one-of-a kind Dissect-It gel to uncover mysteries and exciting prizes like  synthetic bones that fit together to create full skeletons.

KIT INCLUDES – A gel specimen, learning guide, foldable dissection tables, and 2-in-1 scalpel and tweezer tool to help with the dissection process.  Recommended for ages 5 and up.

DISCOVER THE WONDERS OF NATURE – The kit comes with a detailed 8-page fold-out learning guide which walks users through the dissection process. The guides also provide tons of information about the specimens being dissected and the surprises that come inside!

STEM HOME LEARNING – Top Secret Toys is proud to offer educational and STEM toys that bring both comprehensive learning and fun to kids and families. We strive to make home learning an unforgettable experience.